After recent close calls, UDOT and UHP remind drivers to slow down in work zones

September 7, 2023
Warning comes as northbound I-15 will close in Davis County this weekend
With northbound I-15 closing this weekend for West Davis Highway construction and several close calls, the Utah Department of Transportation (UDOT) and Utah Highway Patrol (UHP) are reminding drivers to slow down in work zones.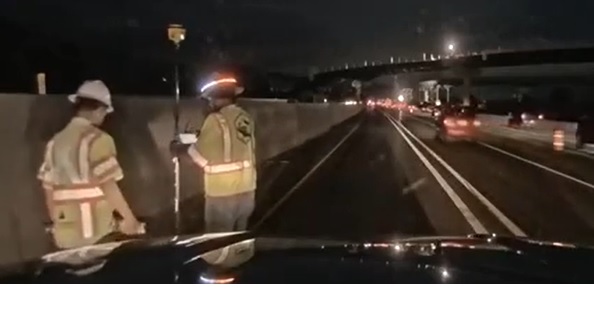 Every night, UDOT crews risk their safety as they work right next to I-15 with vehicles traveling at excessive speeds. Two recent incidents have UDOT and UHP on high alert: in July a man was arrested after driving the wrong way at speeds up to 120 mph in the West Davis Highway work zone on I-15. And another driver was caught on a dash camera speeding through closed lanes on I-15 at more than 100 miles per hour while crews were working only a few feet away.
"Please slow down as you travel through the work zone. It's scary when cars go by at high speeds and you can tell the driver is just not paying attention," said Rex Harris, UDOT West Davis Highway project director. "We all want to go home to our families after work every night, just like you."
UDOT and UHP remind drivers to use caution, stay alert, and reduce speeds when traveling through construction zones, especially after several recent close calls on the West Davis Highway project. All drivers are encouraged to call 911 to report any unsafe or illegal maneuvers they see on Utah highways.
"We are seeing more and more drivers speeding through work zones," said UHP Major Jeff Nigbur. "These higher speeds put crews at greater risk, especially when they are working so close to freeway traffic. In order to keep everyone safe, it's important to follow the speed limits and pay extra attention when driving through work zones."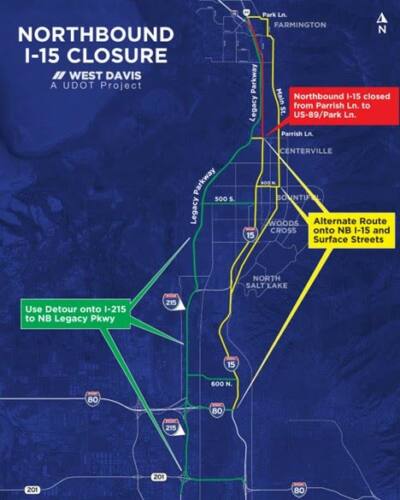 UDOT will close northbound I-15 between Parrish Lane in Centerville and Park Lane in Farmington from Saturday, Sept. 9, at 11 p.m. to Sunday, Sept. 10, at 8 a.m. Following this closure, northbound I-15 will remain reduced to three lanes until Monday afternoon while crews pave sections of the freeway that will connect to the future West Davis Highway.
During the closure of northbound I-15 on Saturday night, northbound drivers will be detoured off I-15 at Parrish Lane and onto Legacy Parkway. This detour route could result in heavy delays, so drivers should plan ahead and take I-215 to Legacy Parkway as an alternate route.
The West Davis Highway is a new 16-mile, 4-lane divided highway under construction in western Davis County between I-15/Legacy Parkway in Farmington and the future extension of S.R. 193 in West Point. Six new interchanges will provide access to Farmington, Kaysville, Layton and Syracuse. The project also includes over 10 miles of new trails. Work began in 2021 and all lanes are scheduled to open in late 2023, with construction completed in 2024.
More information about the West Davis Highway is available on the project website at westdavis.udot.utah.gov, or in the project Facebook group. The project team can be reached by phone at 877-298-1991.
Construction schedules are subject to change due to weather, equipment, supply availability or other issues. For the latest traffic and construction information on highways statewide, visit the new UDOT Traffic website at udottraffic.utah.gov or download the updated UDOT Traffic mobile application.