Employee Safety
Welcome to the UDOT Employee Safety Division
UDOT Risk Management is involved in most activities at UDOT ranging from looking after the safety of our employees, contractor employees, and the public at large. This is done through loss report analysis, managing all of the GRAMA requests to UDOT, procurement of insurance for UDOT, management of the OCIP program, and the emergency management program for UDOT. We strive to make sure that the public is taken care of and that all employees go home safely every night.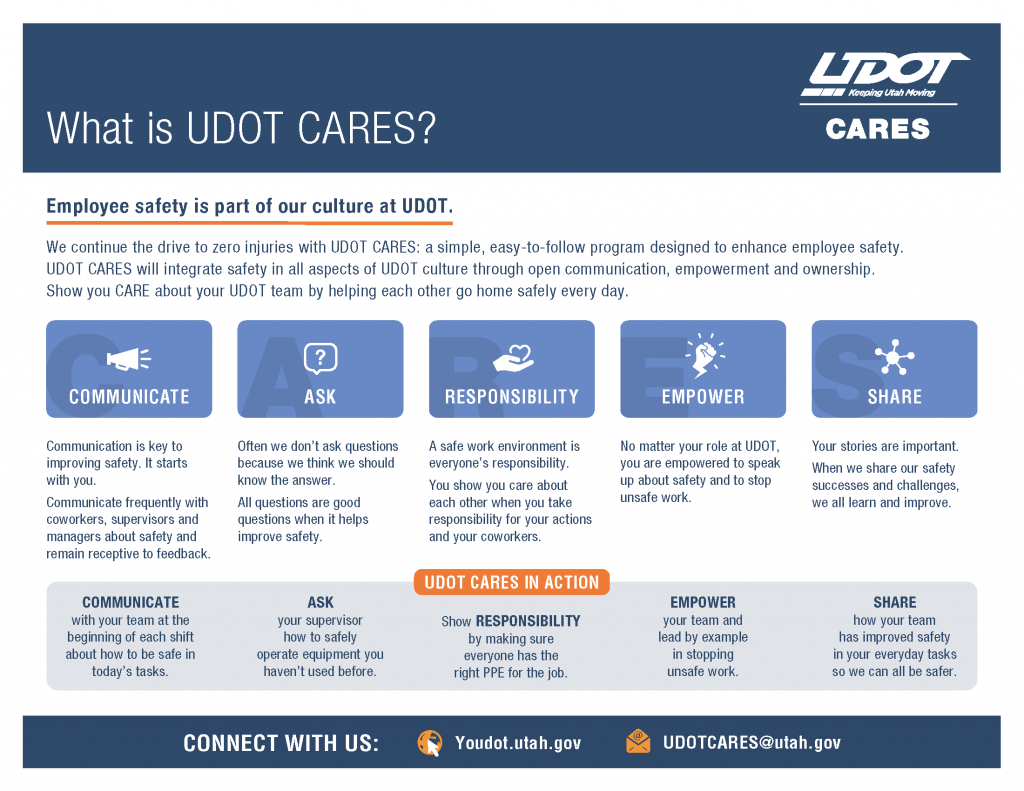 "No one cares how much you know until they know how much you care."
This well-known saying is at the heart of everything we do at UDOT. Caring is an action. We show we care about our UDOT Team by looking out for one another. And, we show we care by helping each other go home safely every day.
To integrate safety into all aspects of our UDOT culture, we're launching a new safety program: UDOT CARES.
UDOT CARES is about increasing conversations about safety and opening lines of communication within the entire UDOT team. Each letter stands for a practice or behavior that you can implement in your work areas to focus on safety at all times:
Communicate 
Ask 
Responsibility 
Empower 
Share 
Look for copies of the UDOT CARES poster at your workplace and print a copy to remind you daily about the UDOT CARES principles in your personal workspace. Talk with your co-workers about each of the focus areas and how you can personally demonstrate UDOT CARES in action in your everyday tasks. As part of the program, we will also be introducing monthly safety topics to align our safety conversations across the UDOT team.
SHARE how you are putting UDOT CARES in action by sending us your safety lessons learned and successes to: UDOTCARES@utah.gov.