National Committee Membership

UDOT's National Committee Members
UDOT employees have opportunities to participate on national committees which help shape U.S. transportation policies. Committee memberships bring value to UDOT and to the state of Utah.
AASHTO Committee Members
TRB Committee Members
TRB Return on Investment (ROI)
---
Service on National Committees Benefits UDOT and Employees (YouDOT article, March 19, 2021)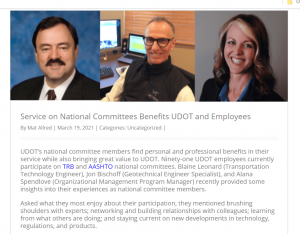 ---
Contact Joni DeMille (jdemille@utah.gov) with the Research and Innovation Division for more information.