Materials & Pavements Division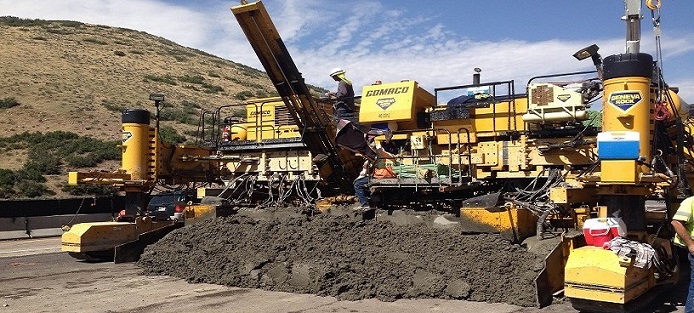 Role
Ensuring high quality construction materials are incorporated into projects through qualified, certified, testing personnel and laboratories, as well as ensuring our pavement program and designs are optimized for preserving our infrastructure at the lowest life-cycle cost.
Objectives
Provide performance specifications and quality assurance program for construction material.
Provide training and certification program for testing technicians and laboratories for acceptance testing of materials.
Collect, manage, analyze and report statewide pavement condition data for setting performance targets and determining pavement program funding needs.

Consistent pavement management and designs for the right pavement at the right time for predictable pavement performance.
Contact Information
William J. Lawrence
Materials and Pavements Director
Email:
billlawrence@utah.gov
Cell: (801) 879-1993
L. Scott Nussbaum
State Engineer for Qualification and Materials
Email:
snussbaum@utah.gov
Cell: (801) 726-9065
Concrete & Steel Section
Jason Richins
Concrete & Steel Engineer
Email:
jtrichins@utah.gov
Cell: (801) 360-4985
Radha Ukkiramapandian
UDOT Chemist
Email:
rukkiramapandian@utah.gov
Cell: (801) 671-3973
Karen Paulsen
Aggregate Lab Technician
Email:
kpaulsen@utah.gov
Cell: (801) 633-6234
Jeremy Price
Structural Steel QA Coordinator
Email:
jeremyprice@utah.gov
Cell: (801) 633-6266
Nick Romero
Structural Steel Inspector
Email:
nickromero@utah.gov
Cell: (801) 633-6265
Lohn Smalley
Structural Steel Inspector
Email:
lsmalley@utah.gov
Cell: (385) 235-2697
Scott Strader
Pre-cast Inspection Manager
Email:
sstrader@utah.gov
Cell: (385) 225-7681
Larry Ivie
Pre-cast Inspector
Email:
larryivie@utah.gov
Cell: (801) 633-5272
Daniel Guzman
Pre-cast Inspector
Email:
dguzman@utah.gov
Cell: (801) 759-6805
Implementation Section
Bin Shi
Implementation Engineer
Email:
bshi@utah.gov
Cell: (801) 633-6260
D. Scott Potter
Database and Process Analyst Engineer
Email:
dspotter@utah.gov
Cell: (801) 647-3459
Tim Wozab
Approved Products Coordinator
Email:
twozab@utah.gov
Cell: (801) 633-7619
Asphalt Section
Howard Anderson
Asphalt Engineer
Email:
handerson@utah.gov
Cell: (801) 633-8770
Dave Thomas
Lead Binder Technician
Email:
davethomas@utah.gov
Cell: (801) 633-6241
Mike Evans
Asphalt Lab Technician
Email:
michaelevans@utah.gov
Cell: (801) 633-6264
Trevor Vlam
Asphalt Lab Technician
Email:
tvlam@utah.gov
Cell: (801) 815-9644
Clark Allen
Lead Asphalt Mix Lab Technician
Email:
clarkallen@utah.gov
Cell: (801) 633-6261
Jon Hardman
Asphalt Mix Lab Technician
Cell: (801) 410-2943
Quality Assurance Section
Glen Clark
Quality Assurance Engineer
Email:
gclark@utah.gov
Cell: (801) 910-2571
Amy Poloni Rico
Quality Systems Engineer
Email:
arico@utah.gov
Cell: (801) 633-0623
Michael White
Lab Certification Specialist
Email:
mwhite@utah.gov
Office: (801) 226-4623
Tyler Lake
Lab Equipment Certification Specialist
Email:
tylerlake@utah.gov
Cell: (385) 222-5159
Jess Borovatz
TTQP Certification Coordinator
Email:
jborovatz@utah,gov
Cell: (801) 946-0002
Glenn Tarrant
TTQP Certification Coordinator
Email:
gtarrant@utah.gov
Cell: (801) 455-5370
Gilbert Arredondo
TTQP Certification Coordinator
Email:
garredondo@utah.gov
Cell: (801) 633-6269
Jose Herrera
TTQP Certification Coordinator
Email:
joseherrera@utah.gov
Cell: (385) 227-5280
Pavement Section
Austin Baysinger
State Pavement Management Engineer
Email:
abaysinger@utah.gov
Cell: (801) 987-0164
Gang Guo
Pavement Modeling Engineer
Email:
gguo@utah.gov
Cell: (801) 618-7947
Jason Simmons
State Pavement Engineer
Email:
jasonsimmons@utah.gov
Cell: (801) 641-6599
Craig Hebbert
State Pavement Design Engineer
Email:
chebbert@utah.gov
Cell: (435) 592-2004
Jeff Saddler
Materials Training and Pavement Technician
Email:
jsaddler@utah.gov
Cell: (801) 633-8676
Doing Business